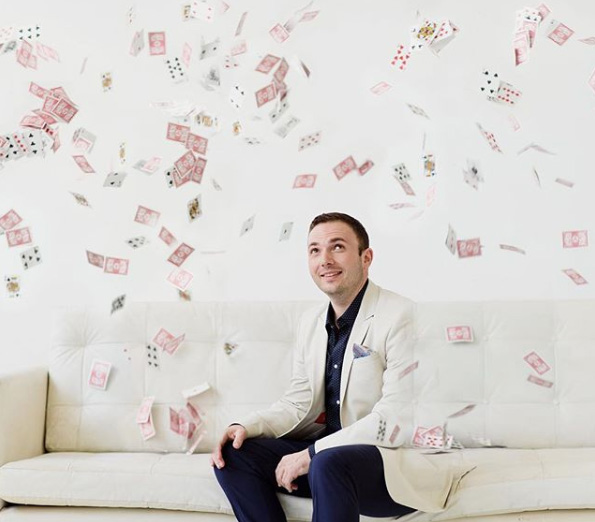 Being a magician is more than just being a performer, especially when you take into consideration the tremendous amount of time and effort magicians put into their practice. Every successful magician has a remarkably focused mindset. There is something that every person can learn from a magician.
Illusion of Grandeur or Perseverance?
At 13 years of age, Larry Soffer dreamed of becoming a world-renowed magician. After a great amount of determination and hard work, that dream was slowly becoming a reality. He graduated with a Silver Medallion from the College of Magic in Cape Town. Skip a few years and Soffer is now the youngest South African to be invited to the Magic Castle in Hollywood, a distinguished nightclub where only the most prestigious magicians are allowed to perform.
Magic may be about esoteric secrets and dexterity, but becoming the youngest South African to receive an exclusive entrance to the Magic Castle is no illusion of grandeur. Equipping a magician's thinking hat will benefit you regardless of who you are and what you do. The differences between your career and being a magician may be significantly different, regardless, you will benefit from Larry Soffer's magician mindset.
How to Think Like a Magician in 4 Ways:
1) Preparation: The most critical thing to being a magician is perfect preparation. This is arguably the most important characteristic common between all successful magicians.
As mentioned earlier, magic isn't only about shattering glass and manipulating matter with your mind. Magic involves countless hours of scripting and rehearsing in addition to practicing the necessary skills. As a magician, saying the right word can greatly magnify the performance and thus improving the audience's reaction as well.
Prepare like a magician. Communicate well, have a backup plan, and practice, practice, practice!
2) Thinking Long-Term: In this digital age, people are so focused on what is happening right here and now that they often forget to effectively plan for the future. Success relies heavily on knowing what your goals in life are and working towards achieving them.
You will never see a great magician use their best effect right away. They work endlessly to create, practice, and perfect their latest effects. As such, a magician sets up their performances carefully; starting with the smaller demonstrations that will wow the audience, to finishing the night with the spectacular finale that leaves everyone wanting more.
It may look like a magician easily and confidently galvanizes an audience into a burst of applause, but in reality the final performance takes a great deal of practicing and setting up to get just right. A magician focuses on how to end their performance as much as they do on beginning their performance. They require an enhanced vision and a clear understanding of what will benefit their performance in the long run; this is what it's like to have a magician's patience and future observance.
Think like a magician. Just like a live performance, life doesn't always go as planned. Learn to adapt to unexpected occurrences instead of instantly giving up; considering the future and planning correctly provides a great amount of flexibility and opportunity to grow and adapt.
3) Adapt and Conquer: Magicians learn from their audiences; they never use the same performance over and over again. They study their audience and adjust their repertoire appropriately.
If something is not working and the magician is unable to improve the specific craft, it will be discarded and replaced. And the most loved acts are constantly improved and polished, because those are the ones that win the audience over.
Learn like a magician. Examine people's reactions. Find out what your friends, family, and coworkers like and focus on improving that; as a result, you may benefit from a promotion or an improved relationship.
4) Innovation and Imagination: Magicians are constantly coming up with new performance ideas that will shock and surprise audiences. But it's not as easy as waving a wand, for it requires the use of mental, visual, and physical tools that are often way ahead of our time.
A magician sees existing resources as an opportunity to do something more, to use it in a new and creative way. Moreover, they seek new resources and technologies to improve their shows. If a rope was only used to tie knots and cards were only used for poker, then magicians would have zero tools to work with; they always think of new ways to use existing items and seek out newer items to expand their magic arsenal.
Innovate like a magician: Think outside the box. With a magician's mindset, you will see everything in a new light. Whether you are a software engineer or a lawyer, a creative outlook will always prove to be beneficial.
These 4 tips are essential in making a magic performance an amazing spectacle. Learning from a magician will assist you in the place of work and at home. Astonish your employer and amaze your friends.
Think like a magician!